Was at RSC last week to resize a new piece. All the while i like my to wear my piece loose (1 little finger space can slide in) The lady over counter advise me to resize it to be "SNUG fit" leaving about 4 to 5 mm in gap
She says the tighter it is the bracklet will not STRETCH over time. Once stretched she say nothing can be done.
Did some reading. I think she is right. Yes, the bracklet should be fitted TOO LOOSE or else will look like this in the long run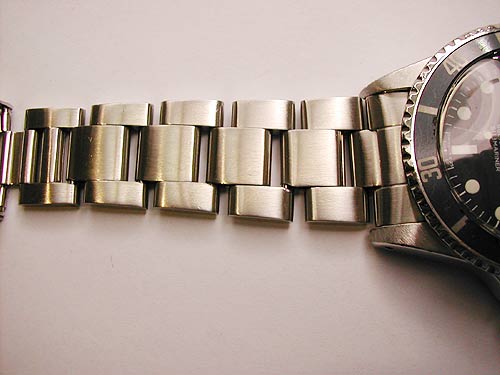 You can read more here...
http://www.clockmaker.com.au/rolex/5513bracelet.html
I was also comparing the SUB/EXPLORER bracklets with those GMT2c/DTAEJUST found the older sports bracklets flimsy as compared to the new easylink Oyster bracklets - which are sturdier and strong and SOLID feel!
My SUB/EXPLs are all Z to M series which are Solid End Links but I feel still flimsy and light. BTW this is how u tell if U have SEL bracklets
http://bjsonline.com/watches/articles/0011.shtml
BTW any expert here can share how you define a bracklet is "loose"? i.e. gaps between the pieces > XXmm etc? or Curverature should not slag more than XXmm?
Advise appreciated.